JOHN NEWTON COOPER
1923 - 2000
I first met John Cooper in 1999 when the club went to visit Cooper Garages. Even though his wife was ill, he took time out to see us, he was a true gentleman. His passing is a sad loss to the motoring world and particulary in the last year of production of the Mini, the end of an era.
John Cooper CBE will be sadly missed but never forgotten.
G J. Lewis
**********************
- By Doug Nye
John Cooper was one of the most profoundly influential characters in motor racing history - and, importantly, he was also one of the nicest. That's a much-demeaned word these days, but in the case of genial, pipe-smoking, warm-hearted, straight-as-a-gun-barrel John Cooper I choose it with painstaking care. John's death on Christmas Eve - at the age of 77 - truly ends an era which saw him and his peers - all great, but very different, men - build Britain's pre-eminence in our sport worldwide.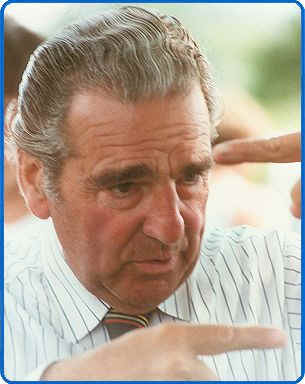 This again might seem an old fashioned sentiment, but it was a plain objective in the 1940s when the story of 'modern' racing really kicked off - and British motor sporting prestige was virtually zero. Now nearly all the leading characters in that drama of the 1950s and early '60s are gone - John Cooper having been the last surviving truly great Formula 1 team principal from those formative years. How many were they, this driven band? Barely more than ten, for sure…
While Tony Vandervell's Vanwall team scored the first all-British win in a World Championship Grand Prix and then took the first all-British Formula 1 World title with their 1958 Constructors' Championship - it was the Cooper Car Company which picked up that coveted cudgel.

Urged on by his customer Rob Walker, and by his drivers Roy Salvadori and Jack Brabham, it was under John Cooper's direction that his tiny Surbiton works team propelled Sir Jack Brabham to the shrewd Australian's first two Drivers' Championship crowns in 1959 and 1960, won back-to-back Formula 1 Constructors' World Championship titles those same two years, revolutionised racing car design by proving that engine-behind-driver was the technology of the future…and then, just as the cherry on the cake, John fathered the Mini Cooper saloon car programme - to create the iconic production car of the swinging '60s...
John Cooper was that great rarity within the motor racing world, a leading personality with no enemies, and few serious detractors. He was classically regarded as being a straight dealer - perhaps lacking the hard commercial edge of his rugged father, Charles, perhaps devoid of a harsh killer instinct in business. Yet he is remembered with almost unalloyed affection and respect.
He was born on July 17, 1923, in Kingston, Surrey. His father Charles ran a modest garage in nearby Surbiton, maintaining - amongst other customer's cars - the unique racing Wolseley 'Viper' campaigned at Brooklands Track by Kaye Don. John grew up surrounded by exciting machinery. John's boyhood bosom pal was Eric Brandon, equally bedazzled by cars and motorcycles. Eric once recalled their formative years in Surbiton like this: "When there was a crash on the Kingston Bypass, you'd see the ambulance whizz by, with a police car pulling out to follow it from the station opposite Cooper's Garage, and Charlie Cooper cranking up his breakdown truck in hot pursuit. While he was gone, John and I would be pinching petrol from his pumps for our motorcycles…".
Aged 15, John left Surbiton County School to become an apprentice toolmaker. After RAF service as an instrument maker 1944-45, he and Eric were determined to go motor racing and in 1946 - with Charlie's tacit approval - they built themselves a single-seater racing car for the new 500cc 'poor man's motor racing' Formula. They took two scrap Fiat 500 front-ends, welded them back-to-back to provide an all-independently suspended chassis, then added a 500cc JAP single-cylinder motorcycle engine behind the driver's seat, to chain-drive conveniently to the back axle.
This first racing Cooper single-seater was very successful, they built a second for Brandon in 1947 and to fulfil demand for replicas in 1948 Charles and John Cooper founded The Cooper Car Company Ltd to build a batch of 12 500s for sale. One of their first customers was 18-year old Stirling Moss…after a few more years, another would be young Bernie Ecclestone…
Business boomed. The Cooper Car Co quickly became the world's largest manufacturer of specialist racing cars, blazing the trail that Lotus, Lola, March, Reynard and so many more have followed to this day.
John Cooper provided enthusiasm and drive, father Charles firm financial control (and restraint). While Charlie carolled "Why change it when we're winnin'?" - son John would add the confidential (and crucial) aside "I'll arrange it, just don't tell Dad…". He also proved himself a most capable racing driver - major victories at Monza, twice at Rouen, and more. In 1952 he scored the first 100mph 500cc race win, at Grenzlandring on the Dutch/German border, and at AVUS, Berlin, in 1953 he drove his streamlined works car, had to push-start it unaided after a first-lap collision, and sensationally overtook the entire field to win brilliantly! Avuncular, pipe-smoking, good bloke he might be - but John Cooper could also Tiger when he wanted to…
Into the early 1950s, he diversified into front-engined sports and single-seater racing cars. Mike Hawthorn of course originally burst to prominence in a 1952 F2 Cooper-Bristol, and racing Coopers from the tiniest '500' to the heftiest Cooper-Jaguar sports excelled worldwide.
For 1955 John Cooper and his tiny team - most of whom were as much his friends as his employees - devised a rear-engined sports car using a proprietary Coventry Climax fire pump engine. This 'Bobtail' Cooper-Climax was another dominant success, and from it Cooper created a rear-engined 1500cc Formula 2 car for 1956-57, easily enlarged to attack F1. Urged on by Roy Salvadori, Rob Walker had an enlarged 2-litre hybrid F2/F1 car specially made for the 1957 Monaco Grand Prix. Jack Brabham pushed it home 6th, after running 3rd. On twisty circuits, these rear-engined Coopers could plainly challenge the front-engined F1 establishment. Moss then drove Rob's baby Cooper to score the first-ever World Championship F1 victory for a rear-engined car, in the 1958 Argentine GP, and at Monaco a second Walker Cooper won, driven by Maurice Trintignant.
Into 1959 John Cooper - ever persuasive and engaging - talked Coventry Climax into building full-sized 2 ½-litre engines for his works drivers - Jack Brabham and Bruce McLaren. Under his team direction they promptly won the 1959 and '60 F1 World Championship titles and by 1962 every F1 car designer put the engine where Cooper had led - behind the driver.
Meanwhile, John Cooper had competed against Mini designer Alec Issigonis in hill-climbs 1946-47, and after the Mini's sensational launch loaned one at Monza to Fiat's ex-Ferrari chief designer Aurelio Lampredi - who returned it grinning from ear to ear: "This is the car of the future…", the great man declared, "If it wasn't so ugly, I'd shoot myself!". John would recall: "I put it to George Harriman, BMC's new boss, that he should market a tuned version. They gave me a car and I asked Ginger Devlin to tune it…". Michael 'Ginger' Devlin's basic description of life within the team defines John's role; "Charlie Cooper used to sack me on a weekly basis, but John always took me back…".
John and 'Ginger' tuned the Mini's engine, added disc brakes and a remote-gearchange, profoundly impressing Harriman who instantly offered John £2 per car royalty. They shook hands - there was never a formal contract - and the 'Mini-Cooper' was born. It dominated its racing and rally classes virtually throughout the 1960s, won multiple Championships and four consecutive Monte Carlo Rallies, 1964-67 - only to be controversially disqualified in '66. "Drive a Mini Cooper - the most fun you can have with your clothes on!" was one enduring claim, "If your tyres survive more than 2000 miles you've driven it like a wimp!" was another… The extrovert showman in John Cooper relished every moment of his fame, until May 1963 when he was badly hurt as his new 'Twinny-Mini' prototype crashed. "The publicity killed the twin-Mini idea stone dead", he would explain, "…a pity - four-wheel drive, years before the Audi Quattro…". Though soon back in harness it was many months before he was fully fit. His men believe he was never the same while Cooper Cars continued racing…
In fact their fortunes had sagged after 1960. Their uncomplicated practicality was overtaken by more sophisticated - and later better-funded rival teams. To be so upstaged after having shown the way would leave most real racers soured and bitter. But John Cooper was a better man than that. His outlook was quite the contrary - to his dying day he thought the world of 'Chunky' Chapman's designs, yet might add "Perhaps I built safer cars…".
Still far from fit when Charlie Cooper died in October 1964, John missed The Old Man desperately. He sold out to the Chipstead Motor Group in April 1965 but continued to co-direct the F1 team (with Roy Salvadori) into 1968, before it closed in May 1969. Retiring then to the Sussex coast, John founded the garage business which still bears his name in Ferring, near Worthing.
The Mini Cooper's enduring appeal did not extend to Donald Stokes of British Leyland: "He wondered why BL, with 100,000 employees, needed me. Stokes asked me what I did. I said I won races and once a fortnight I dropped by to wind up Issigonis… He objected to paying me a royalty". And Stokes killed the Mini Cooper. But John's idea would not lie down… He was delighted into the 1990s when first Rover Japan, and later the parent company, backed development of a new generation of Mini Coopers - first using tuning kits, later selling complete cars. BMW enthusiastically embraced the project, and just before his death John expressed his delight when son Michael drove the prototype new BMW Mini Cooper.
Above all, John Cooper was a lifelong car nut. He loved fast cars, and he loved racing, and he loved talking about it all with like-minded people. He was very gregarious, but scratch the surface and he was also a worrier, and when there was nothing to worry about he'd invent something - until some other excitement or fun would divert his thoughts.
Perhaps the most telling epitaph for John Cooper's approach comes from a former works manager, who told a former AUTOSPORT Assistant Editor in the 1950s "I love working for Charlie and John. They pay bugger-all, but you'd never have as much fun anywhere else. Nobody has as good a time as us chaps at Cooper's…".
What greater compliment could anyone pay? John Cooper was awarded the CBE in 1999 for services to the motor industry. He leaves a wife, Paula, a son Michael and daughter Sally. Another daughter, Tina, predeceased him. We extend our condolences to the family and to all of this great man's many friends, throughout the motoring and motor racing world. An era has ended.
Read the account of the club's 1999 visit to Cooper Garages