IN MEMORIAM
DANIEL "GREENGRASS" GREENWAY
05:10:67 - 19:10:2000
Anybody who knew Dan will miss him greatly, but the purpose of this missive is to celebrate the life and times of "Greengrass". Dan was a fountain of knowledge, mostly useful with the odd red herring thrown in just to see if you were awake! At Mini shows he and Sarah were the parental influence, gathering the rest of the club around the tent and dishing up "dinner". We were always grateful, mind you we never quite knew what we were getting, apart from the fact that it contained mince! Dan's humour was very dry and subtle and always delivered dead pan. All through Dan's life there was a pattern:- he would acquire yet another Mini and it would be modified. Not in the usual boy racer "look at my big exhaust" way, but with genuine go faster goodies. He would constantly baffle you with the ease in which he would unearth those hard to come by bits. A spot lamp here, a steering wheel there. This would culminate in a subtly modified flying machine. His knowledge would enable him to pick out a "Works grease nipple" in a pile of rusty junk at fifty paces! Eagle Eyes Action Man had nothing on this fella! With this knowledge came an immense understanding of all things Mini leading him to be a founder member of the Cooper Register in the Midlands. Through this he did a lot of work with Mini Worlds resident rallyist Peter Barker, always on hand to tweak 977 ARX on many events and fixing the body work after several visits into the "scenery". This was Dan's trade and something he was expert at. You or I would see a horribly crunched and mangled panel, a few deft blows from Dan's hammer later would see him asking 'What was all the fuss about?" Peter Barker always reminding Dan that rallying was a non contact sport. Dan always coming back with "rubbin's racing kid!" He will be greatly missed but always remembered in his favourite songs and happy memories. Now who would like some weak lemon drink from my tartan thermos?"
Colin
Of all the shows that Dan visited, the Cadwell Park weekend was one of his favourites: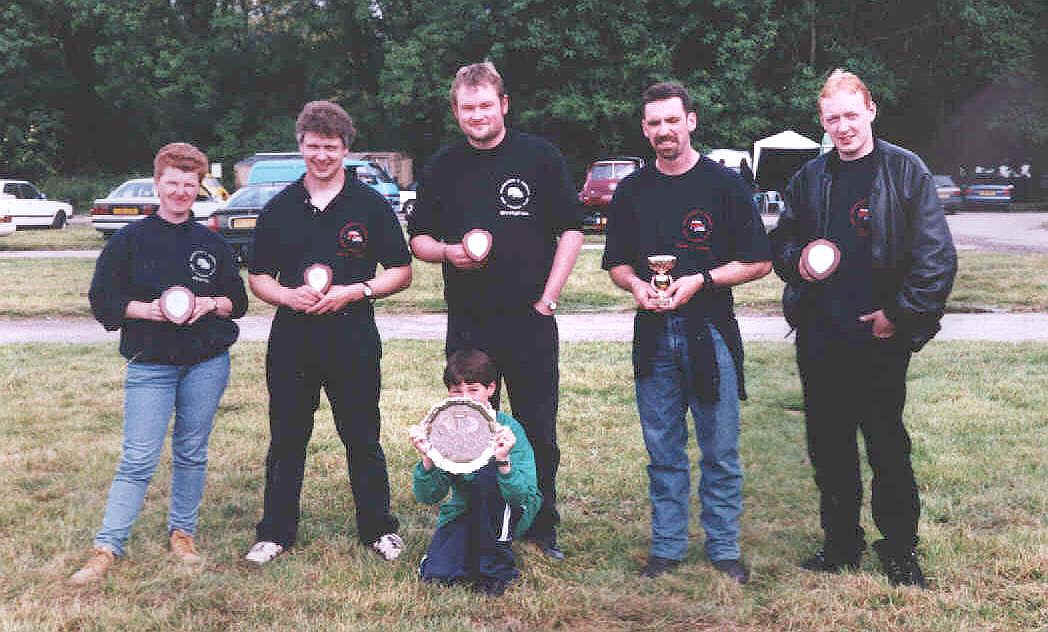 Cadwell '98 From left: Sharon, Gazza, Dan, Paul, Jimbo
Cadwell Park. 13-14th June 1998.
By; Sharon Mason.
This was obviously a very well planned Mini weekend which must have taken a lot of time, patience and money to set-up. The camping facilities were excellent with plenty of clean toilet facilities with showers, a must for a full weekend. Saturday the trade stands and race track events were splendid, night time the disco had a superb DJ, who by playing tracks that everybody knew quickly had everyone in a party mood. There was 24 hour security on site who were extremely proficient and allowed total peace of mind. There was hot food available through till midnight.
Sunday there were trade stands, track events, and a full concours along with children's activities, including two lots of model car racing. Altogether a brilliant Mini event. Well done Margaret and Paul.
The Halesowen & District MOC members weekend went as follows;
Cadwell Park. Well! What can I say. What a weekend, it was probably the best Mini weekend, No, it was the best Mini weekend I've attended for a long time and I'm sure the other members thought so too. (What they can remember of it!!!!!).
Friday night we arrived at Cadwell in good spirit, we set up camp and basically chatted till the early hours, having decided it was time to get some shut-eye, off we went to bed. Mind you, Neil and Jim (they'd had a 'few' beers) decided that they would chat and drink on, and on, and on, and on, all we could hear was Jim's Mini boot squeaking as he opened it for another beer.
Saturday, up with the birds, it didn't feel as if I'd been to bed, mind you as it was my first time camping, I lay there listening to every 'little' sound. (Sarah!!). We erected the stand which looked very impressive, and then had a wonder around the trade stands, watched a bit of racing, then an idea sprang to mind, I would love to go racing! Paul also had the same idea, so helmets in hand (crash helmets) off we set to find two good Mini's to be 'passenger' in. When we finally tracked two down I had a word with my driver and told him that I wanted to beat Paul, "no problem" he replied, crikey, I thought what have I let myself in for. So off we went in our Clubman (of course), and oh my God what a thrill. *(Was it as good as the Harley? Gary.) To go round the track at 100+ and hit the bends at 90+ and to see, feel and hear what a suped up Clubman can do, wow what an experience and yes we did beat Paul and his driver. Sorry Paul. I've got to say that Paul and myself had the best two drivers there, we were left on a high all day.
Saturday night arrived all to quickly, Gary and Steve had joined us early this morning, so as a group we headed to the disco, but what about our Gary, such a quite lad you might think? He'd been drinking all day along with Jim and Neil so they were in good spirit. The rain had arrived with a vengeance, so the disco which was pretty good, offered a 'dry' refuge. As the night wore on everyone was having a good time. We got Paul to do a bit of John Travolta, even Gary did a spot of singing in his 'magic coat', Sarah was also getting the beer down her neck and doing an impression of a person who thought she was a groovy dancer, Neil gave us a bit of the Full Monty, yes Neil, the quite one, didn't he come out of his shell over the weekend. Jim, well he kept chatting up the DJ and everyone else he could find. The night wound on in its merry way, Brian and myself left earlier than the others, note; we were the only ones sober.
At about 12:30am the 'tribe' arrived back at base camp, laughing, joking and having a great time, 'well' so much for an early night, might as well get up and join in the party. What a state most of them were in, Gary sat in Sarah and Dan's tent obviously p . . . . d, what a sight, Jim, Neil, Paul and Steve had also had plenty, just then, Gary got up and fell flat on his face, hands by his sides, (left a nasty dent in the field) we thought he was doing an impression of a lawn mower either that or he was trying to suck the worms out of the ground, then Neil fell over backwards and started making weird noises, hence the cameras were out again. The Brian shouted us, as I lifted the tent flap there was his hairy bum in full and yes, Sarah was there with the camera 'nice one Sarah'. Finally about 2am we retreated to our tents, well some of us, Neil was flat out snoring his head off, Brian was making some very funny noises, and Sarah and Dan remember, "ahh, ahh, ahh, ahhhhhh".
Jim well he was still fumbling about then 'Santa' appeared! Jim was in his element, talking about whatever they could, he did go to bed in the end. Sunday morning, Gary was up with the birds, "what, no hangover", "jammy sod". Everyone made a slow start except for Sarah, she didn't rise till around 3pm, some hangover.
The day went on as planned getting the Mini's ready for concours, just then the heavens opened, so all the polishing went down the pan, eventually the rain stopped and the sun came out. about the same time as Sarah, just in time to see Dan's Mini being judged along with Jim's and my own. Eventually the presentations were announced; best club stand, most dedicated Mini club went to of course, Halesowen, well done guys. Jim got a first, Dan got a second, I got a first in class and overall Mini of the weekend. What a note to finish on, a great show for all of us.
The journey home went well except for poor Sarah who had a bucket on her lap for most of the way home. We would all like to thank Margaret and Paul for a great weekend. p.s Hoped you liked the Mars bars.............